You can add a website landing page to the Skyline website to give users an overview of the services that you are able to provide them. Landing pages can be internal on your Skyline Server or be an external page. You can add your own landing page but there is a default one included with the software. Differently styled landing pages can be added for each of the portals that you have. When users view the Landing page they are able to use the Login link to open the Skyline website.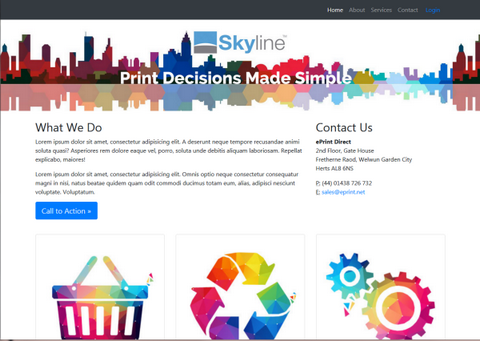 Example of the Default Landing Page.
Internal web pages are saved on the Skyline server in the ~/home/ folder. If you have more than one portal a folder with the Portal ID is created for each portal in the ~/home/ folder. When users enter their portal URL the corresponding portal folder is checked for a landing page. If the portal folder contains a file called index.html, the users of that portal are redirected to the portal specific pages inside their own home folder. If the portal specific home folder does not contain this file, then users are taken to the common /home/index file.
To view a portal ID log in with Host rights and go to Admin. In the

Portals

section click

Portal

. Find the Portal required and the Portal ID is shown.




Portal ID of the Portal Annette is highlighted.
To add a landing page:
1.

Log in with Administrator rights and go to

Admin

.



2.

In the Portals section click

Portal Configuration

.



3.

Find

New users - Redirect to external website

in the list.
4.

Click to set this option as

True
| | |
| --- | --- |
| 5. | Click to save the setting. |
6.

Find

New users - Redirection website URL

in the list.
| | |
| --- | --- |
| 7. | Click to set the internal home pages in the Skyline website by setting this value to "~/home/index.html" or any external website URL. |
| | |
| --- | --- |
| 8. | Click to save the setting. |