You can upload a document that you wish to have printed. You can then order the document and choose from the finishing options that are displayed.
The Upload web page allows you to select documents from your own files and order them on-line or save them to your own personal library. The documents are converted into a high resolution PDF and the conversion also provides a thumbnail image to help with identification. If you already have a PDF version of your document this can be uploaded and no further conversion takes place although the thumbnail is still provided.
If you are not sure of the file formats that you can upload click the link Supported File Formats. A window will open listing all the supported document types.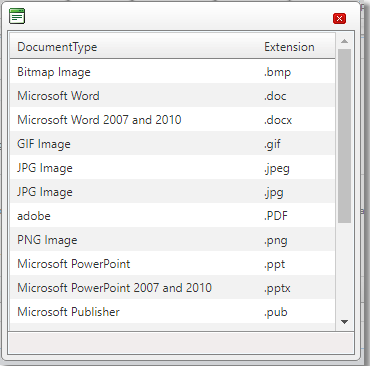 Example of the Supported File Formats Window
To upload a document:
1.

Log in and click the

Upload

tab.
2.

Click

Select

to locate the document/s that you want to have printed.

1.

Select all the documents you want to upload and click

Open

.
| | |
| --- | --- |
| 3. | The documents are uploaded. |
| | |
| --- | --- |
| • | During the upload process they are shown with a yellow progress bar. |

Document being uploaded

| | |
| --- | --- |
| • | Documents that can not be uploaded as they are not of a supported file format show with a red dot. Any files that are shown with a red dot can be removed from the upload list by clicking the word Remove. |
Example of a file format of document not supported.
| | |
| --- | --- |
| • | If you upload a document by mistake you can remove the document from the uploaded list by clicking the word Remove associated with the document. |
4.

When all the documents have been uploaded click

Proceed

to process the documents and load them into your personal library.