You can select where you want to store downloaded documents as well as selecting options that relate directly to how you handle orders.
To amend your download options:
1.

Select

Setup

>

Downloads

from the drop down list.



| | |
| --- | --- |
| 2. | The Download Options window opens. |
1.

Click

Browse

to select the location that you want the downloaded documents to be saved.
2.

If you want to automatically check for new orders select the option

Check for new jobs every:

and select the time period.
3.

If you want to be notified when new orders are received select the pop-up option

Enable

and complete the POP-up notification details. By default this option is selected. The

Close Pop-Up after:

option is not selected by default which means that the pop-up notification will remain open until the user closes it. You can amend the pop-up message as required.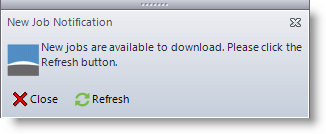 Example POP-up New Job Message
4.

Click

Save

to save your selected options.