If you try to log in into ProductManager and see the message "Portal not found" it means that the portal name is not recognized. This could be because you have mis-typed the portal URL. Check that the portal URL is correctly entered and try again.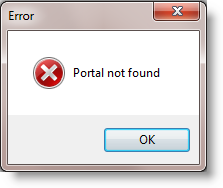 Example of error message when the portal entered is not recognised.
If portal is still not recognised check to see if you are trying to connect to CostManager via a proxy server. It could be that you need to configure CostManager to connect to use a proxy server.