If you are finding that it is taking a long time to load the documents in the Orders grid this is probably because you have a lot of unused documents stored. These documents are from orders that are no longer displayed on the PrintStation as they have been complete. When you open PrintStation you are probably getting the following Message.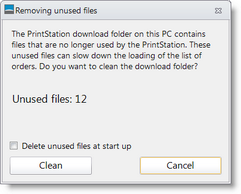 The unused documents can be manually deleted by choosing clicking Clean. You can also use the option delete Unused Files from the File drop down menu. This will speed up the loading of the Orders grid. Alternatively you can configure PrintStation to automatically delete the unused orders at startup.
To Automatically delete unused files:
1.

From the

Setup

drop down menu select

Options

.
2.

View the

General

Tab.



3.

Select the option to

delete unused documents at start up

.
4.

Click

Save

. Any unused documents will automatically be deleted each time you start PrintStation.