You can change the wording on a page as well as adding other images. For example the Home page can be changed to share relevant information to all users. This is a brief overview on how to amend the web page selected.
To amend the home page:
| | |
| --- | --- |
| 1. | Log in with Editor rights. |
2.

Select the

Home

page and click

Edit

.
| | |
| --- | --- |
| 3. | Floating Edit menu bars appear on the page. These can be used to amend the page. |

Edit HTML
When you click

the HTML editor window opens containing the text and graphics of the area selected. The example below shows the HTML editor window open for the main body of the page when the icon on the lower toolbar is selected. Use the editor to make your changes and update your page.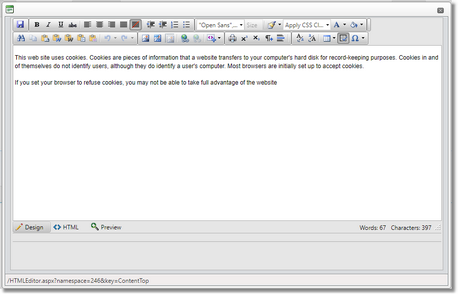 Edit Style
You can change the background colour of the pages using the

icon. A new window opens which you can select the colour or specify a custom colour.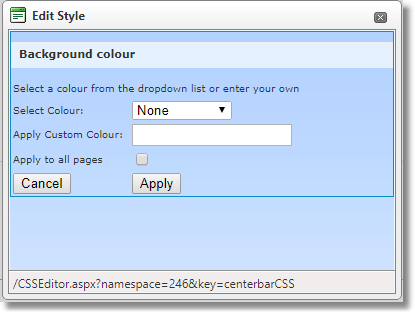 Edit Columns
The text is layered out in columns. You can choose to show the hidden columns to the left or right. Make the selection from the column chooser and click Apply.